2020 HBRA Directory Advertising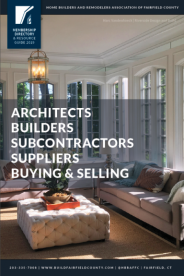 The Home Builders and Remodelers Association Member Directory & Resource Guide is provided annually in print and online to all members.
The 140 page book contains information about all current members, HBRA staff and the Board of DIrectors, contact information for town and state officials, as well as past presidents and a brief history of the HBRA. It is also distributed at events and is available for display at member's offices and showrooms.
We have 4 different advertising sizes for the 2020 HBRA Directory. All payments and ad files are due by December 13, 2019 in order to guarentee your spot in the book. Questions? Email clare@buildfairfieldcounty.com.